World's Fastest Man Usain Bolt broke the 200 m world record at the Beijing Olympics to become the first man to win both the men's 100- and 200- meter dashes at the same Olympic Games in world-record times.
El jamaicano Usain Bolt ha roto records mundiales y es despues de mucho tiempo capaz de ganar los 100 y 200 metros, todos los estadounidenses no lo pueden creer , es mas, se resiten a reconocerlo. Solo tiene 22 años.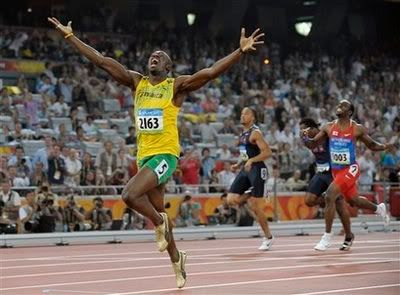 Jamaica's Usain Bolt celebrates as he wins the men's 200-meter final with a world record during the athletics competitions in the National Stadium at the Beijing 2008 Olympics in Beijing, Wednesday, Aug. 20, 2008. (AP Photo/Thomas Kienzle)
Jamaican Usain Bolt breaks the world record with a time of 19.30 seconds to win the gold medal in the Men's 200m Final at the Bird's Nest Stadium during the 2008 Beijing Olympic Games on August 20, 2008. Bolt became the first man since Carl Lewis in 1984 to sweep the 100 and 200 gold medals at an Olympics. He ran 9.69 seconds to win 100 m Olympic Gold Medal on August 16, 2008.
Watch videos of amazing world record 100 meters and 200 meters dashes by Usain Bolt at
www.meiguoxing.com/Features/Beijing_National_Stadium.html
Some past 200 m world records:
19.32 seconds by Michael Johnson of United States at 1996 Atlanta Olympics
19.75 seconds by Carl Lewis of United States in 1983
????????????200??????
El jamaicano Usain Bolt estremeció por segunda vez en seis días el estadio Nacional de Pekín con su segundo récord mundial, este en la final de 200 metros
nota via